Favorite books from or about Tokyo
. C I T I N E R A R I E S | Books | Destinations | Asia | Japan | TOKYO
---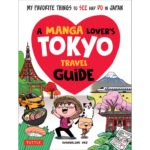 A Manga Lover's Tokyo Travel Guide : My Favorite Things to See and Do In Japan by Evangeline Neo | TUTTLE
In this captivating Tokyo travel guide, manga artist and author Evangeline Neo travels to the Japanese capital with her mascots Kopi the dog and Matcha the cat in tow, bringing you to all the otaku sights this city has to offer.
---
I Live in Tokyo by Mari Takabaiashi
Seven-year-old Mimiko lives in Tokyo, and here you can follow a year's worth of fun, food and festivities in Mimiko's life, month by month. Learn the right way to put on a kimono and see Mimiko's top ten favorite meals—just try not to eat the pages featuring delicious wagashi!
---