Favorite family films from Mongolia
C I T I N E R A R I E S | Films | Destinations | Asia | Mongolia
---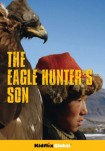 Eagle Hunter's Son
Set in Mongolia, director René Bo Hansen's emotional drama touches on substantial themes such as redemption, friendship, loyalty and heritage.
---

The Cave of the Yellow Dog
Following the international success of The Story of the Weeping Camel, director Byambasuren Davaa takes us on a journey into another world, and through poetic writing and exquisite photography she reveals the magic of Mongolian culture.
---

The Story of the Weeping Camel
This breathtaking blend of documentary and fiction filmmaking provides an unobtrusive glimpse into the relationships, rituals, and livelihood of a four-generation family of nomadic shepherds in the Gobi desert of South Mongolia.