Favorite books from or about Paris
.C I T I N E R A R I E S | Books | Destinations | Europe | France | PARIS
..PICTURE BOOKS | TRAVEL BOOKS
---
This is Paris by Miroslav Sasek
The first in the series of This is books, This is Paris is a delightful tour of 1950s Paris from a child's eye view.
---
A Little Bit of Paris by Jean-Jacques Sempé
---
A Walk in Paris by Salvatore Rubbino
Join a young girl and her grandad as they walk round Paris – explore a bustling market, marvel at its beautiful buildings and indulge in tasty treats in this child-friendly tribute to an incomparable city.
---

Adèle & Simon by Barbara McClintock
Classic children itineraries in early 1900s Paris
---
Charlotte in Paris by Joan MacPhail Knight
While in Paris, Charlotte dines at a cafe on the Champs-Elysees, watches a marionette show in the Tuileries gardens and celebrates her birthday at the Eiffel Tower.
---

City of Wind by Pierdomenico Baccalario
In their continuing quest to save the world from evil forces, Mistral, Elettra, Harvey, and Sheng meet again in Paris, where they must search for the mysterious veil of Isis reportedly hidden in the heart of the city.
---
City Walks Architecture: Paris
Discover Paris's architectural wonders like a native on foot! This deck contains 25 walking adventures that introduce users to the city's one-of-a-kind buildings, parks, and monuments
---
City Walks with Kids- Paris Adventures on Foot
Walks include: Notre Dame, The Eiffel Tower, Grands Boulevards, Centre Pompidou, Le Marais
---

Crepes by Suzette by Monica Wellington
Part story, part grand tour, Monica Wellington's tale of a Parisian street-cart vendor will charm and inform.
---
Bubble in the Bathtub by Jo Nesbø
A mysterious postcard leads Lisa and Nilly from Oslo to Paris in search of Doctor Proctor…
---

Dancing Through Fire by Kathryn Lasky
Welcome to 19th century Paris, and the world of Degas's dancers!
---
Dodsworth in Paris by Tim Egan
Dodsworth and his (crazy) friend the duck have just arrived in Paris. It is their first time in the City of Lights, and they are ready for some adventures magnifique!
---
Eloise by Kay Thompson
---
Eloise in Paris by Kay Thompson
Paris has just been discovered by Eloise the little girl from the Plaza…
---
Emma in Paris (Enchanted Lion Books)
Written and illustrated by Claire Frossard
Photographs by Christophe Urbain
---
Everybody Bonjours! by Leslie Kimmelman
Through lilting words and lively images, Everybody Bonjours welcomes young reader-travelers to a Paris that isn't just for artists, grown-ups, and dreamers– it's for kids!
---
Fancy Nancy and the Boy from Paris by Jane O'Connor
There's a new boy in school, and he's from Paris…
FancyNancyWorld | Browse Inside!
---
Georgette by Claire Huchet Bishop
---

Henri's Walk to Paris by Leonore Klein and Saul Bass
Henri's Walk to Paris is the story of a young boy who lives in Reboul, France, who dreams of going to Paris.
---
Jeanne-Marie in Gay Paris by Francoise
Charming pictures are among those that Francoise herselft considered her best. Why not? This is the Paris she loved – even the quay near her old studio on the Seine!
---
Kiki and Coco in Paris by Nina Gruener
Kiki loves Coco, her cloth doll. Coco loves Kiki, her girl. The two are never apart. It s as if they were made for each other. Together they travel to Paris and delight in the city of lights.
---
Let's Go, Hugo! by ANGELA DOMINGUEZ
Hugo is a dapper little bird who adores the Eiffel Tower — or at least his view of it from down here.
---
Lydia The Ladybug In Paris by Marie Lawrence
An exciting new adventure starring Lydia as she's taken to the fashion capital of the world.
---
Mad About Madeline by Ludwig Bemelmans
This collection brings together all six of the Madeline books in one volume
---

Madeline by Ludwig Bemelmans
Nothing frightens Madeline–not tigers, not mice, not even getting sick. To Madeline, a trip to the hospital is a grand adventure.
---

Madeline's Christmas by Ludwig Bemelmans
Madeline's Christmas, Ludwig Bemelmans' classic tale of a little French girl named Madeline as she celebrates Christmas, is perfect for this holiday season.
---

Madeline's Tea Party by John Bemelmans Marciano
This easy-to-read book is written in rhyme, and there are full-color illustrations throughout in the same charming style as the original Madeline books.
---
Madeline and Her Dog by John Bemelmans Marciano
John Bemelmans Marciano carries on the legacy begun by his grandfather, Ludwig Bemelmans, author and illustrator of the Madeline books, with stunning watercolor artwork and playful, energetic storytelling.
---
Marguerite Makes a Book by Bruce Robertson
Paris in the 1400s. A young girl named Marguerite delights in assisting her father, Jacques, in his craft: illuminating manuscripts for the nobility of France.
---

Minette's Feast: The Delicious Story of Julia Child and Her Cat by Susanna Reich
A fine recipe for pleasure: Julia Child, the culinary arts, Paris and a lucky cat. Magnifique!
---
Night of the New Magicians by Mary Pope Osborne
Merlin sends Jack and Annie on a mysterious mission to Paris, France, over a hundred years ago.
---
Not For Parents Paris by Klay Lamprell
This is not a guidebook. And it is definitely 'not-for-parents'. It is the real, inside story about one of the world's most famous cities – Paris.
---
Ollie & Moon by Diane Kredensor
This delightful friendship story will keep readers laughing as they join Ollie and Moon on their cumulative guessing game through the City of Light.
---
Pancakes-Paris by Claire Huchet Bishop
A young boy in postwar Paris is unsure of how to make pancakes from a box of pancake flour he receives as a gift, because he can read French, but directions on the box are printed in English.
---
Paris 1789: A Guide to Paris on the Eve of the Revolution
(Sightseers Essential Travel Guides to the Past)
You will need a reliable travel guide if you are to visit Paris in 1789.
---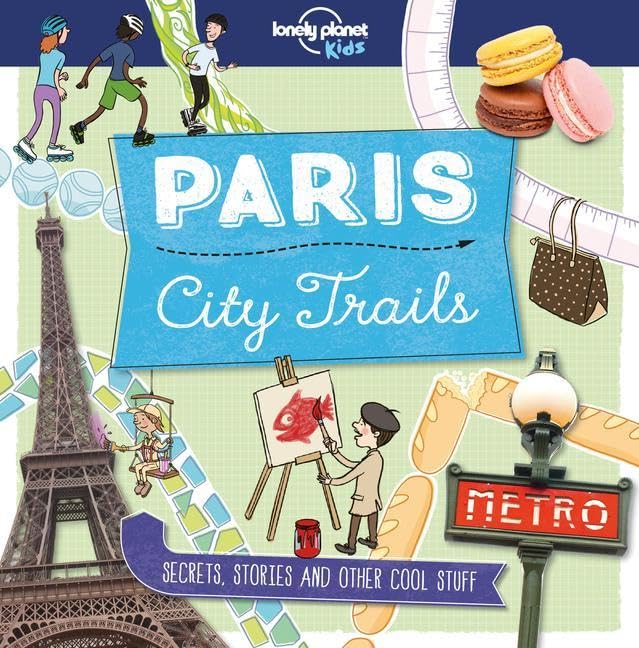 PARIS City Trails by Helen Greathead
Discover Paris's best-kept secrets, amazing stories and loads of other cool stuff from the comfort of your own home, or while out and about in the city.
---

Paris in the Spring with Picasso by Joan Yolleck
This evocative portrait of the artists that made Paris tick in the early 20th century is a perfect introduction to the world of contemporary art and literature . . . and to Paris!
---
Secrets of the Cirque Medrano by Elaine Scott
When her mother dies, Brigitte is sent to live in Paris where she helps her aunt and uncle in their café. Her new life seems strange and interesting. When Brigitte befriends Paco, the young circus performer from the Cirque Medrano who poses from the temperamental Spanish artist Pablo Picasso, she is drawn into a web of international intrigue.
---

Suzette and the Puppy: A Story About Mary Cassatt by Joan Sweeney
The time and place of this gentle story is Paris in the 1870s, when many fine artists were creating the exciting approach to painting called Impressionism.
---

Thea Stilton And The Mystery In Paris
In this exciting adventure, the Thea Sisters are off to Paris to visit Colette's fashion-designer friend Julie. But when Julie's designs are suddenly stolen, the girls must search the city of Paris to catch the thief and save the fashion show.
---
The Inside-Outside Book of Paris by Roxie Munro
Beautiful illustrations and brief text about noted sights in Paris: Eiffel Tower, Arch of Triumph, Metro, puppet theater…
---

The Invention of Hugo Cabret by Brian Selznick
ORPHAN, CLOCK KEEPER, AND THIEF, twelve-year-old Hugo lives in the walls of a busy Paris train station, where his survival depends on secrets and anonymity.
---

The Last Musketeer by Stuart Gibbs
On a family trip to Paris, Greg Rich's parents disappear. They're not just missing from the city—they're missing from the century. So Greg does what any other fourteen-year-old would do: He travels through time to rescue them.
---
The Mystery at the Eiffel Tower
by Carole Marsh
---
The Red Balloon by Albert Lamorisse
A magical book that has become an enduring children's classic, The Red Balloon is the story of a young boy and his best friend–a bright red balloon. Chock-full of photographs of the boy, the balloon and the captivating city of Paris.
---

The Secret Circus by Johanna Wright
Beneath the sparkling lights of Paris is a circus so secret that only the mice know how to find it.
---

The Stolen Smile by J. Patrick Lewis
Based on true events, this tale recounts the 1911 theft of history's most famous portrait, Leonardo da Vinci's Mona Lisa, through the spirited narration of the proud thief himself.
---
Who Stole Mona Lisa? by Ruthie Knapp
Narrated by the lady of the enigmatic smile herself–and brought to life with gorgeous paintings that take the reader from da Vinci's renaissance right up to the present day
---
A Paris Year by Janice MacLeod
Part memoir and part visual journey through the streets of modern-day Paris, A Paris Year chronicles, day by day, one woman's sojourn in the world's most beautiful city.
---
Paris in Stride: An Insider's Walking Guide by Jessie Kanelos Weiner
The book features seven specially curated daylong walking tours.
---
Paris Letters by Janice MacLeod
Finding love and freedom in a pen, a paintbrush…and Paris
---
Your Guide to Visit Paris for Free by Lydie Thomas
'Your Guide to Visit Paris for Free' allows the budget-conscious tourist to become a true Parisian and visit museums, monuments, passages, go to concerts, shop at the food markets, visit churches, cemeteries, enjoy a lecture or a guided tour and do many more activities without spending a dime.
---