IT was also known as Zama (dawn) because IT is one of the places where dawn breaks first in Mexico. IT was a commercial port with a privileged location. IT was an active redistribution center for local and foreign products, some of which came from places as far away as Central America, the Pacific and Gulf Coast, by sea, river, or land routes. Everyday life was intertwined with politics, magical religious rituals, the arts and astronomical observations, especially pertaining to planet Venus – the morning and evening star -the representative of Kukulkan Quetzalcoatl.
It appears that the name "Tulum" is relatively recent. It means a protective wall, enclosure or palisade, in allusion to the still-intact walls which encircle the group of monuments. The name Tulum seems to have been given to the city after it was abandoned or already in ruins.
The ground on which you stand is relatively young; it was formed 2 million years ago when a good part of the ocean floor emerged, forming the Yucatan Peninsula. Its surface is formed by limestone; when it is dissolved by the force of the water, it gives rise to pool called cenotes; water holes, or aguadas; caverns; hallows known as rejolladas; and alkaches, natural lowlands flooded with water in the rainy season. Just off the shore of Yucatan is a low coral reef running all along the Caribbean coastline, the second longest in the world (and one that is still forming).
---
---

---

---

---

---

---

---

---

---
---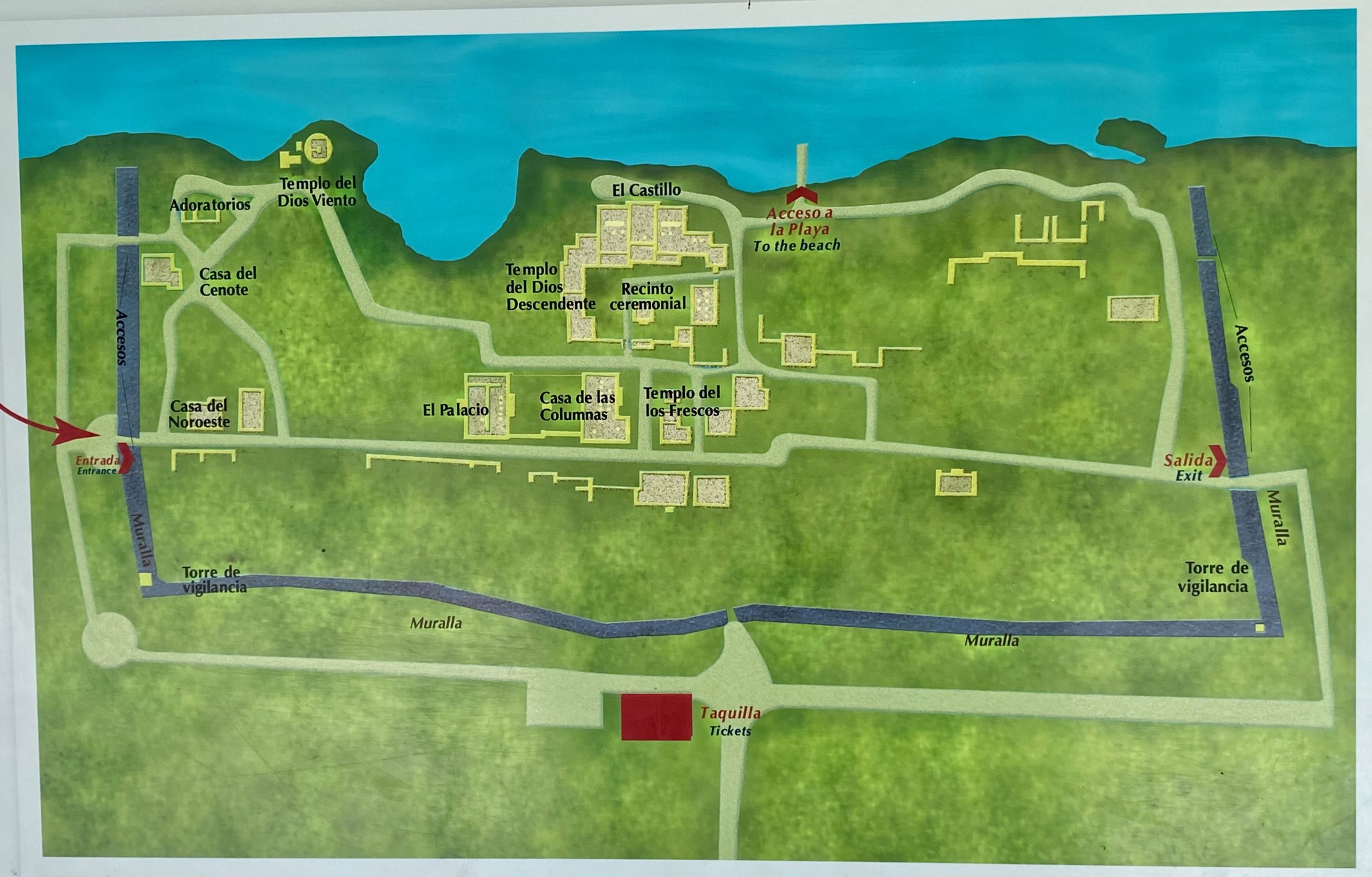 ---
. pdf
Templos Miniatura | Miniature Temples

God of Winds Temple at Mayan Ruins in Tulum
Temple of the wind, Tulum, Mexico

The Descending God | HistoricalMX
Temple of the Descending God at Mayan Ruins in Tulum

El Castillo (The Castle), in Tulum – Visit México
El Castillo | Tulum, Mexico Activities – Lonely Planet
El Castillo, Tulum, Mexico – Exploration Vacation
Tulúm's El Castillo | HistoricalMX

Temple of the Initial Series at Mayan Ruins in Tulum, Mexico
stela; pillar | British Museum

The Temple of the Frescoes
Temple of the Frescos Carvings at Mayan Ruins in Tulum

Detalle de la Casa de Columnas en Tulum

El Palacio – Tulum, Mexico – Waymarking
Palacio del Gran Señor
---
ABOUT
An exceptional site with well-preserved buildings, ornate wall painting and a striking setting overlooking the Caribbean.
---
FURTHER READING
---
VIDEO