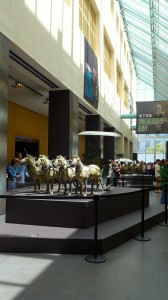 The "Terracotta Warriors" exhibit has been on our wish list since we first heard about it, but somehow we didn't make it at the Asian Museum in San Francisco until today.
Since it was a free museum day and the Annual Asian Heritage Street Fair, we were afraid it would be even more crowded than expected, but starting early made it an enjoyable visit for all of us, and especially memorable for kids!
The app was fun too, and the visit will stay with us through the nice children books about the Terracotta Warriors!
The "Terracotta Warriors" exhibit in San Francisco ends next Monday, but if you miss it you can still look further… East 🙂
B O O K S

Hidden Army: Clay Soldiers of Ancient China
by Jane O'Connor

The Emperor's Army
The Emperor's Silent Army: Terracotta Warriors of Ancient China
by Jane O'Connor
F I L M S : National Geographic | PBS

Secrets of the Dead: China's Terracotta Warrior
V I D E O