Fragrance in the Wild Western Garden: Philadelphus
Western mock orange (Philadelphus lewisii) was collected by the Lewis and Clark Expedition on their return trip through Idaho and Montana in 1806. It is named for Meriwether Lewis. Just one good specimen of this shrub is enough to scent a whole Wild Western garden, all by itself.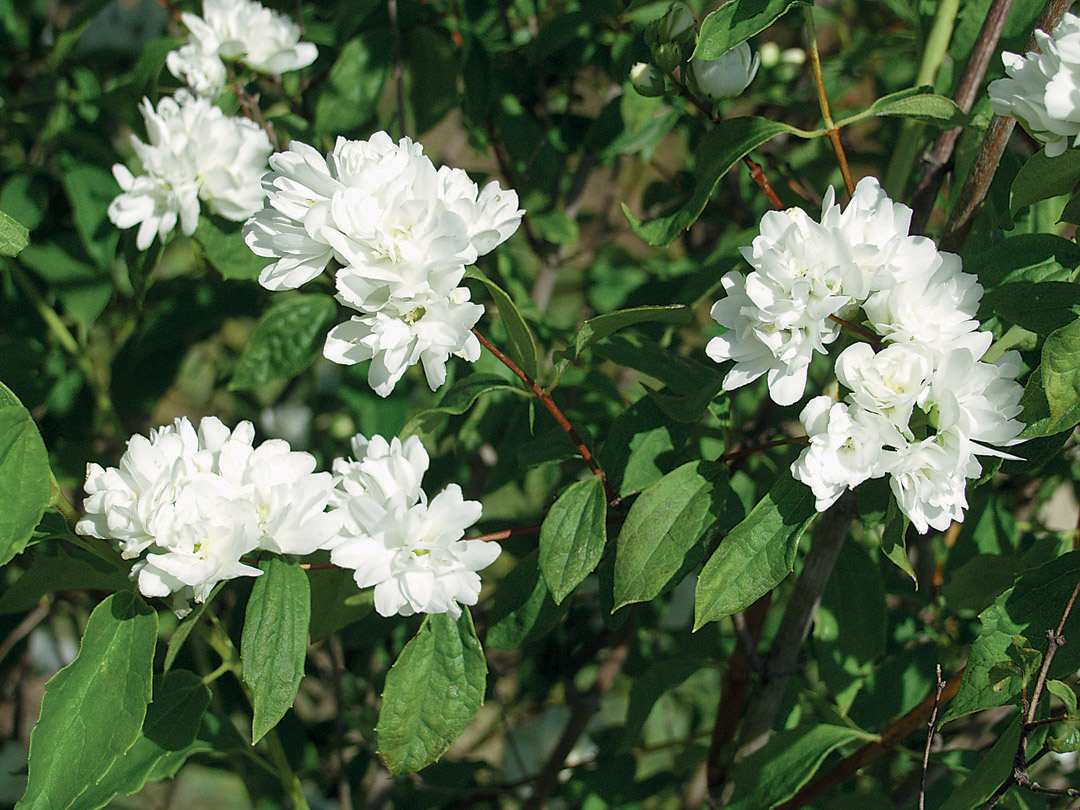 Our birthday addition to the fragrant garden:
Wild Western Mock Oranges
Philadelphus lewisii. Wild mock orange.
This is a common but delightful sight along creeks and hillside seeps in the mountains of northern California [and Oregon, and Washington]. . . . These robust shrubs, growing six to ten feet tall, often produce many strong arching shoots from the base. The main trunks are openly branched, with short, leafy, flowering shoots that appear in late spring or early summer, followed by vegetative branches. Ovate (roughly egg-shaped) leaves up to three inches long are paired along the stems. They are conspicuously veined, often toothed, and painted bright green above, paler beneath.

Showing up beautifully against this backdrop are several- to many-flowered clusters of pure white, usually four-petaled blossoms, which are further decorated by dense central brushes of yellow stamens. The individual flowers measure about an inch, occasionally almost two inches, across and fill the air around them with a delightfully fresh, fruity fragrance. There is considerable variation in every ornamental feature of this species. In the middle 1970s, Ray Collett discovered a bushy plant with fully double flowers near the Smith River and introduced it as 'Goose Creek'.
Hmmm…. Goose Creek… Smith River… 🙂

Philadelphus lewisii (Mock Orange, Syringa, Gordon's Mockorange, Indian Arrowwood, Wild Mockorange