Falcons in the City by Lisa C. Manning
Frida, the peregrine falcon, narrates the story of how her family came to live in the city of Portland, Oregon, in the early 1990s.
Larry Gets Lost in Portland
by John Skewes
Portland City Walks: Twenty Explorations In and Around Town
Portland Hill Walks: 24 Explorations in Parks and Neighborhoods
The Portland Stairs Book
Walk There! 50 treks in and around Portland and Vancouver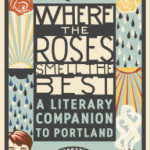 Where the Roses Smell the Best
A literary companion to Portland
short stories, vignettes, and poems about the places, people, and activities that make Portland unique.