We've planned this day for a trip to Figueres, waked up early in the morning and were at Passeig de Gràcia railway station late enough to miss the express train, so decided to sweeten our day at the Gran Via Escribà that had a special place in my culinary memory…and a sweet reminder for Father's Day too!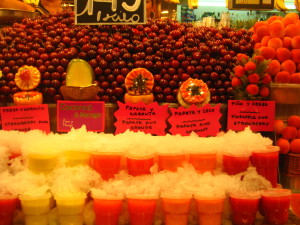 We've continued our culinary itinerary to The Boqueria for a fresh juice, through Barri Gòtic to the Chocolate Museum.

Doh! The museum is closed on Tuesdays, we should have stayed with the original plan that had the Chocolate Day for Wednesday… So we took a peek at the Pastry School, sweet, keep the museum on the wish list and learn more about what we've missed in the Virtual Museum.
From here we entered the huge greenery of Parc de la Ciutadella. We've passed by Castell dels Tres Dragons designed by Lluís Domènech i Montaner for the Universal Exhibition of 1888, now the Museum of Zoology. We continued our Parc de la Ciutadella walk past the Arc de Triomf gate, stopped at a little playground, the Cascada Fountain, and the Stone Mammoth… It was a nice stroll in a beautiful park, and for the next visit we'll set aside more time for a statue scavenger hunt.
Now we'ere looking for a gate to the beach and we found the entrance to the … Zoo!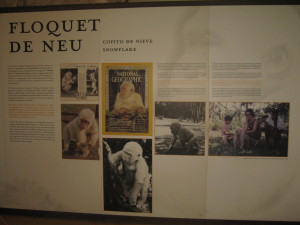 Barcelona Zoo was a very nice surprise.
We didn't plan for it, but the home of Snowflake is such a lovely zoo with a dolphinarium, Montserrat Mountain, aviary kitchen … and a wonderful wooden playground too!
There is a Picasso itinerary we had in mind but didn't make it, adding it to the wish list: the Picasso Museum and Homenatge a Picasso by Antoni Tàpies. Checking the virtual tour of the houses Picasso lived and worked in Barcelona.
For something new we wanted to end the day in Poble Nou, at the beach and restaurant, preferably a combination of both. We didn't find a restaurant to like on the beach, but we've enjoyed them both separately. Next time we'll probably try the tourist bus green route, Barceloneta with kids and Port Vell too. But this time the kids were particularly happy eating at L'Aliança del Poble Nou: caracoles, chipirones, mejillones… a yummy happy ending of another full day!
C I T I N E R A R I E S | Barcelona