It all started with a geodome science fair project 🙂
ASM Headquarters and Geodesic Dome *
Location: Materials Park, Geauga County, Ohio
Completion Date: 1959
The dome and headquarters building, both constructed in 1959, represent a prominent example of Modern Architecture designed by architect, John Terence Kelly, and mathematician, R. Buckminster Fuller.
This particular dome is rare amongst Fuller's domes because, unlike most other functional domes, it was never intended to be a covered structure.
ASTRODOME
Location: Houston, Texas, USA
Completion Date: 1966
Diameter: 710ft (216.4m)
Height: 208ft (63.4m)
Materials: Concrete, steel
The Astrodome is the world's first domed sport stadium, located in Houston, Texas, USA. It opened in 1965 and was nicknamed the "Eighth Wonder of the World".
BIOSPHERE
Location: Montreal, Canada
Completion Date: 1967
Diameter: 250ft (76m)
Height: 200ft (62m)
Materials: steel and acrylic cells
Montreal Biosphère was designed by Buckminster Fuller for the USA pavilion at the 1967 World Fair Expo in Montreal, Canada. The building originally formed an enclosed structure of steel and acrylic cells, 76 metres (250 ft) in diameter and 62 metres (200 ft) high. During structural renovations in May 1976, a fire burned away the building's transparent acrylic bubble, but the steel lattice remained. Today, the Biosphère is a museum in Montreal dedicated to environment.
CLIMATRON *
Location: St. Louis, Missouri, USA
Completion Date: 1959, 1990 (renovation)
Diameter: 175ft
Materials: Plastic (original design), aluminum, glass
The Climatron is a greenhouse at the Missouri Botanical Garden in St. Louis.
DOME OF THE ROCK
Location: Jerusalem, Israel
Completion Date: 691CE
Size: Diameter of the dome of the shrine is 20.20m and height 20.48m.
EDEN PROJECT
Location: Cornwall, UK
Purpose: Multiple Greenhouse Complex
Materials: Steel frame and thermoplastic
Size: The largest biome is 240m long, 55m high and 110m wide, with no internal supports.
The Eden Project is a visitor attraction in Cornwall in the United Kingdom, including the world's largest greenhouse. It is described as 'the living theatre of plants and people'.
In 50 years' time, the mahogany trees will reach the top of the biggest dome.
FLORENCE CATHEDRAL
Location: Florence, Italy
Completion Date: 1436
Size: 295ft
Dome Structure
READ MORE: Pippo the Fool

The dome was designed by Filippo Brunelleschi.
A wooden and brick model is displayed in the Museo dell'Opera del Duomo.
FULLER DOME
Location: Carbondale, Illinois
Fuller Dome Home is the original Fuller geodesic dome home in Carbondale, IL. Since the dome made Landmarks Illinois' "Ten Most Endangered Historic Places" list in 2004, further deterioration has occurred, greatly accelerated by the rare and devastating "derecho," or inland hurricane, that hit Southern Illinois on May 8, 2009.
GEORGIA DOME
Location: Atlanta, Georgia, USA
Completion Date: 1992
Diameter: 840ft
Height: 270.67ft (82.50m)
Materials: Steel, Teflon-coated Fiberglas
On March 1, 1992, the Georgia Dome in Atlanta, Georgia, USA became the largest cable-supported fabric roof in the world.
HAGIA SOPHIA
Location: Istanbul, Turkey
Completion Date: 537 CE
Diameter: 102 FT
Materials: Concrete
Hagia Sophia was built in 537 AD in record time: five years, ten months, and four days. Now it is a museum in Istanbul, Turkey.
MIHRIMAH MOSQUE
Location: Istanbul, Turkey
Completion Date: 1555
Diameter: 66 feet
Materials: Concrete
Mihrimah Mosque was designed by Sinan the Architect for the favorite daughter of Suleiman the Magnificent, Princess Mihrimah. Its building took place from 1562 to 1565. The Mihrimah Mosque was the lightest structure Sinan had ever built, pierced all the way around with 161 windows.
MONTREAL OLYMPIC STADIUM
Location: Montreal, Quebec, Canada
Completion Date: 1976
Diameter: 340 feet by 575 feet (elliptical)
Materials: Plastic, concrete, steel
Built for the 1976 Olympic Games, Montreal's Olympic Stadium was one of the first sports stadiums to be capped with a plastic dome roof.

National Centre for the Performing Arts – The Egg
Location: Beijing, China
Completion Date: July 2007
Height: 46.28m
Read: Thea Stilton and the Ghost of the Shipwreck
National Centre for the Performing Arts in Beijing, an ellipsoid dome of titanium and glass surrounded by an artificial lake and called The Egg.
NATIONAL MUSEUM AND CATHEDRAL
Location: Brasilia, Brazil
Architect: Oscar Niemeyer
PANTHEON
Location: Rome, Italy
Completion Date: 123
Diameter: 142 feet
Materials: Concrete, brick
The Pantheon in Rome was built as a temple to all the Roman gods almost 2,000 years ago. It is remarkable for its size, its construction, and its design. The enormous dome stretches 142 feet in diameter; that's the same as the distance from the Statue of Liberty's sandals to her torch! It still exists today, almost entirely in its original form.
Le Panthéon
Location: Paris, France
The Panthéon is an early example of Neoclassicism, with a Greek-cross plan and a massive portico of Corinthian columns. Its ambitious lines called for a vast building 110 meters long by 84 meters wide, and 83 meters high. In 1851, physicist Léon Foucault demonstrated the rotation of the Earth by his experiment conducted in the Panthéon, by constructing a 67 meter Foucault pendulum beneath the central dome.

The Shine Dome
Location: Canberra, Australia
Completion Date: 1959
Many Canberrans refer to it as the 'Martian Embassy'!
SKY DOME
Location: Toronto, Ontario, Canada
Completion Date: 1989
Diameter: 674 feet
Materials: Steel, plastic
The SkyDome in Toronto can open its roof completely. Constructed in 1989, the SkyDome is the first and only stadium to have a fully retractable roof.
SPACESHIP EARTH, Disney's Epcot
Spaceship Earth at Walt Disney World is a geodesic sphere.
SAINT PETER BASILICA
Location: Vatican City, Italy
Completion Date: 1626
Diameter: 138 feet
Materials: Concrete
St. Peter's Basilica in Vatican City. Michelangelo designed a dome that would actually dwarf the nearby Pantheon. It would be smaller than the Pantheon in diameter, 138 feet, but stand much, much higher, rising 452 feet above the street.
TAJ MAHAL
Location: Agra, India
Taj Mahal was built by Mughal emperor Shah Jahan in memory of his third wife, Mumtaz Mahal. It is widely considered as one of the most beautiful buildings in the world and stands as a symbol of eternal love. The marble dome is its most spectacular feature. Its height of around 35 m (115 ft) is about the same as the length of the base, and is accentuated as it sits on a cylindrical "drum" which is roughly 7 m (23 ft) high. Because of its shape, the dome is often called an onion dome or amrud (guava dome).
UNITED STATES CAPITOL
Location: Washington, D.C., USA
Completion Date: 1824
Diameter: 96 feet
Materials: Cast iron
The U.S. Capitol has a double dome – a small dome inside a taller dome – that creates the illusion of height. The tall exterior dome is really a thin shell, supported by a ring of 36 curved iron ribs. Underneath is a smaller dome, open at the top like the Pantheon. Though it looks like it's made of stone, every bit of the Capitol dome is made of cast iron. The dome was finally completed in December 1863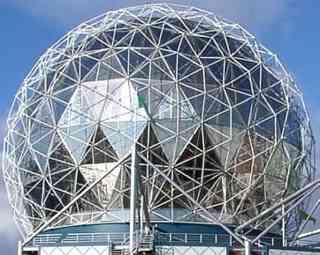 VANCOUVER SCIENCE WORLD
Location: Vancouver, British Columbia, Canada
Completion Date: 1986 World's Fair (Expo 86)
WAIKIKI GEODOME
Location: Hilton Village, HI
The aluminium-skinned dome with a 145 ft (44 m)-wide span was built in only 22 hours. It was razed in 1999. Hawaiian Village Hotel Kaiser Dome c1957 by Kamaaina56, on Flickr

ZEISS PLANETARIUM
Completion Date: 1922
Location: Jena, Germany
The world's first lightweight steel structural framework was built on the roof of the Carl Zeiss optical works in Jena, Germany in 1922. When covered with ferro cement the structure became the first thin- shell concrete structure in history. What is even more remarkable about the dome is that it was almost incidental to a spectacular scientific and technical accomplishment: invention of the planetarium projector.
*
ASM Materials Park Dome and Climatron Dome designed by TC Howard of Synergetics, Inc – BFI | Geodesic Domes