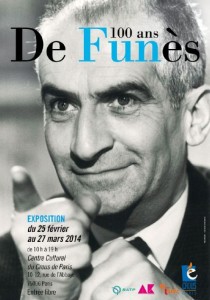 February was the French movie month for cinechefs, so we've watched quite a few French family movies.
Naturally, we couldn't ignore Louis de Funès, and so it was to our surprise that this year marks his birthday centennial, time to introduce the kids to his timeless funny movies!
The other surprise is that there aren't many movies with English subtitles and the first that we've tried was L'Aile ou la cuisse .
Dubbed in English.
Time to learn French!

Next we've watched Le gendarme se marie.
Didn't have time to learn French.
Had great time watching Louis de Funès!


Finally we find The Mad Adventures of Rabbi Jacob.
With English subtitles.
Encore!
Indeed, La Grande Vadrouille has English subtitles and the English title of "Don't Look Now: We're Being Shot At".
Wishing to see more Louis de Funès movies!