Today was a sad day for us… decided to cut it short and start with the sweet part of the original itinerary… Carrer Petritxol… a sweeter destination was on the list… so we had our sort of brunch at Granja Viader… yum! We finally tried the Churros con Chocolate and added Crema Catalana to the long tasting list that spans 2 years now… time to try this at home too..
Our itinerary continues to the Antic Hospital de la Santa Creu… a 15th-century building… Antoni Gaudí died here just before it was closed down in 1926… in 1929, it moved to a new modernista complex the Hospital de la Santa Creu i de Sant Pau… today we found a tribute plaque to Alexander Fleming… here's more about Sir Alexander Flemming's visit to Barcelona… yet another reason to love this city!
The other surprise we found was in the courtyard of the Antic Hospital de la Santa Creu… L'Ou Com Balla… the Dancing Egg… here's bit more info on the mysterious origins of the Dancing Egg.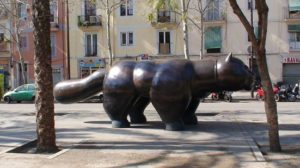 A short stop on Rambla de Raval for the big Botero cat… on the way to Museu Marítim de Barcelona… in the Drassanes Reials (Royal Shipyards), on the city's waterfront at the foot of Montjuïc… our destination for tomorrow…
The Maritime Museum was a wonderful surprise, with a totally interactive itinerary that both girls enjoyed a lot… The Great Sea Adventure… a full-scale reproduction of a 16th century flagship galley, built in 1971 to commemorate 400 years from the Battle of Lepanto… 7 Ships, 7 Stories…
From here it was just a short theme walk to Mirador de Colom (Columbus Monument). The Christopher Columbus Monument was designed by Catalan architect Gaietà Buigas i Monravà for the Universal Exhibition in 1888 in commemoration of the 400th anniversary of the discovery of America. It was a technological sensation at the time as it featured the first ever hydraulic lift although now it houses a more modern one. We used it and took these panoramic pictures from the top!

This slideshow requires JavaScript.
After a late lunch break at Boqueria we continued our reverse citinerary in search of Miró's birthplace, the lucky turtle of Casa de l'Ardiaca, and dinner at Taller de Tapas…
Sweet Dreams from Barcelona!
Christopher Columbus Monument and Viewpoint
History of the Columbus Monument
THE ELEVATOR MUSEUM TIMELINE