After the usual morning treat in Barri Gòtic we headed to Montjuïc, our main destination for day #3. First stop is one gem of a museum that we discovered by chance many years ago when we had only a little one, the Museu d'Arqueologia de Catalunya (MAC; Archaeological Museum of Catalonia). We loved the museum, the little one had fun in the interactive space and the museum is on our wishlist ever since. This year we took the journey in time with both girls and we totally enjoyed it. Most displays are in Catalan only, but we took the audio guides in English and we learned a lot of interesting histories. I particularly liked The Bridge of the Blue Sea (El Pont de la Mar Blava) and the parallel between the ancient Mediterranean seafaring history with Gibraltar as the last frontier and today's space exploration, it brings another perspective to the constant human quest for knowledge.
After the ancient history immersion we improvised on a Miró itinerary with a medieval theft of the bestiary enigma to solve at the Museu Nacional d'Art de Catalunya and beautiful views from the museum's rooftop. By chance we found the mural Joan Miró and the ceramist Joan Gardy Artigas made in 1978 for the IBM headquarters. The mural is huge at almost 9 metres wide by 2 metres high and is made up of 406 refractory ceramic tiles!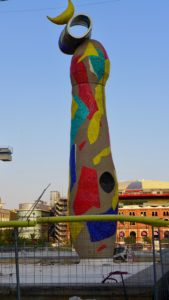 We had a Buenas Migas picnic in Miró's Park just to find out that Dona i Ocell is under renovation… we've also missed the Magic Fountain light show… keeping these on the next trip citinerary together with the Ethnological Museum that didn't have any chance to fit in today's schedule… oh well, there are so many reasons to return to Barcelona! Walking back to our apartment on Carrer d'Ausiàs Marc… that was a longer walk than expected… no more narrow medieval streets, welcome to Eixample… our destination for the last day in Barcelona! Another missed point of sweet interest, Pastisseria Escribà, will stay on the wishlist for the next trip… more sweet dreams from Barcelona!
Museu d'Arqueologia de Catalunya: Practical Information



Jocs i joguines a l'antiguitat
La col.lecció del MAC en 3D
PLAYSTORIES. Juga i aprèn amb el Clicks



Routes: The Route of Rock Art | The Iberian Route
Fundació Joan Miró: Free Guided Tour of the Joan Miró Collection
EXHIBIT: Éluard, Cramer, Miró
Museu Nacional d'Art de Catalunya (MNAC; Museum of Art of Catalunya)