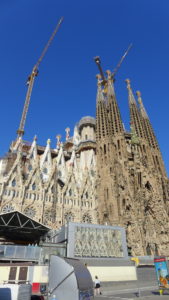 Today is the day for Sagrada Família… we even booked the tickets online since the last year attempt ended up with a long line… skipped it… booked the first tour in the morning this time… full tours… it was perfect in the morning… an amazing transformation after 20 years or so since we first visited… a masterpiece of light and soaring geometry… a space to return to before it completes in 2026… for now we went up to the Passion Tower, visited the Schools of Sagrada Familia, discovered the Museum and spent quite a while here… we found so many interesting and and hands on displays… models… drawings… the exuberance and geometry of nature… the great forest and mineral crystals… that made us go inside again and look another time… already crowded… but beautiful in the mid-day light… a place to return any time!

It's lunch time and after a wrong turn towards Sant Marti we missed the planned chocolateria in Gracia only to discover the artisanal breads of Bopan… now we're ready for something new in Eixample… or rather just opened for the public last year… Casa de les Punxes… interesting sant Jordi presentation and interactive explorations… inside the house and especially in the conical towers on the roof… these were a lot of fun!

Our next citinerary stop was Eixample beach… closed until July… and La Llavor dels Orígens, our delicious find from last year in El Born… we changed to Ciudad Comtal for tapas… Granja Viader for dessert… Olympic Village for the real beach… a refreshing ending for the first part of the trip… to be compared with the Mediterranean at Nerja really soon now!

---
Sagrada Família – Virtual visit
Geometry
"I am a geometrician, meaning I synthesise." A. Gaudí
Gaudí por un día
Taller infantil de trencadís en família

AD Classics: La Sagrada Familia / Antoni Gaudi
Barcelona Escapes – Sagrada Familia
Nativity Facade | Passion Facade
MORE ABOUT: Sagrada Familia – Barcelona, Spain
The Sagrada Familia cathedral, Gaudí's crowning work
---
Casa de les Punxes Visit – The house in 3D
150th anniversary of Puig i Cadafalch
Josep Puig i Cadafalch's Barcelona
Puig i Cadafalch in Barcelona
Works Spanning the Modernista and Noucentista Periods of Catalan Architecture
Puig i Cadafalch's Houses Passaport .
---