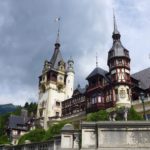 For several years now it just happens we are in the same place at the same time… Peleș Castle… Concursul de Eleganţă Sinaia! While the auto show is not a surprise anymore it is always enjoyable, and since we visited the Peleș and Pelișor Castles last year… story still waiting to be written… we say goodbye to our elegant host Cafe Regal Peleș with the wish to come back and for a longer time… maybe hiking from Sinaia to Bran… for now we make room for the retro cars and move on to a musical destination… Villa Luminiş…

…The Glade Villa, "George Enescu" Memorial House in Sinaia… we were impressed by Enescu's "cell", his small and traditionally decorated bedroom… inspired by his musical sanctuary from the big piano room to the top floor room where he taught the young prodigy Yehudi Menuhin… it feels like our itinerary follows on Enescu's footsteps… from the Peleș Castle where his young talent was recognized by Queen Elisabeta who offered him a room to study and invited him to play at the Palace… to his own villa that Enescu built from his own plans and with the money he had earned during his first tour in America…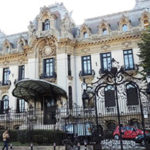 … and it should continue in Bucharest with "George Enescu" National Museum… we just pass by and our Romanian itinerary ends short this time while the wishlist grows longer… we spend our last night in Romania in the lively Old Town Bucharest… browsing and finding new books at Cărturești Carusel… enjoying the exquisite food at Zexe Centrul Vechi and nice atmosphere at Hanu' Berarilor… and wishing we could explore more… well, that's what next trips are for!

---
Foisor and Pelisor Castles. The royal family's homes.
---
FAMILY TREKKING IN ROMANIA
Sinaia summer Hiking routes in Bucegi Mountains, rock climbing …
The Omu Peak. From Sinaia to the top of Bucegi Mountains …





---
"George Enescu" Memorial House – Sinaia
Enescu's "Glade" Villa in Sinaia, the place that saw musician penning his grandiose Oedipe
Vila Luminis SlideShare: beautiful virtual tour!



The National Museum "George Enescu"