Did you know that although the South Porch at Door 12 may look identical to the others, it is much newer and only opened in 2004?

---

This Hall was erected for the advancement of the Arts & Sciences and works of industry of all nations in fulfilment of the intention of Albert Prince Consort. The site was purchased with the proceeds of the Great Exhibition of the year MDCCCLI. The first stone of the Hall was laid by Her Majesty Queen Victoria on the twentieth day of May MDCCCLXVII and it was opened by her Majesty the twenty ninth of March in the year MDCCCLXXI. Thine O Lord is the greatness and the power and the glory and the victory and the majesty for all that is in the heaven and in the earth is thine. The wise and their works are in the hand of God. Glory be to God on high and on Earth peace.

Can you estimate how many red bricks and blocks of terracotta were used to build the Hall's exterior?

---

---

---

How many stars do you think are depicted in this triptych?

---

Can you estimate how many acoustic diffusers hang from the auditorium ceiling?

---

Can you guess its size and weight?
If laid end to end, how many miles do you think its pipes would span?

---

---

On 9 November 2013, ahead of the Royal British Legion's Festival of Remembrance, the Hall's Patron HM Queen Elizabeth II and HRH The Duke of Edinburgh attended a ceremony to rename the steps the Queen Elizabeth II Diamond Jubilee Steps.
A stone plaque to mark the occasion was placed towards the bottom of the steps.

---
---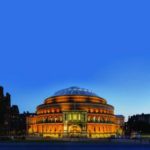 ANSWERS
Opposite the Hall's south entrance (Door 12) on the Queen Elizabeth II Diamond Jubilee Steps.

The mosaic frieze that encircles the Royal Albert Hall is 800ft long and 5,200sq.ft.
The building's distinctive exterior is built from over 6 million red bricks and 80,000 blocks of terracotta.

Located in Kensington Gardens on Albert Memorial Road opposite the Royal Albert Hall. It is one of London's most ornate monuments, designed by George Gilbert Scott.

Decorative piece adorning the South Porch, designed by Shelagh Wakely.

Explore the piece, currently on display in the Hall's Door 12 entrance.
It depicts more than 400 stars!

The 85 fibreglass saucers which hang from the auditorium ceiling are acoustic diffusers affectionally known as mushrooms.

Described as 'the voice of Jupiter', the Hall's organ was once the largest instrument in the world. Today the largest of the 9,999 pipes measures 2 ft 6" in diameter, 42 ft high and weighs almost 1 tonne – the smallest pipe is about as wide as a drinking straw. It measures 70 ft high and 65 ft wide, and weighs in at 150 tonnes. If laid end to end, the pipes would span approximately nine miles.

The Hall's granite foundation stone, laid by Queen Victoria in 1867. Take a look under row 11, seat 87 next time you're at the Hall!

Formerly known as the South Steps; located on the south side of the Hall.

The Grade I listed structure neighboring the Hall.
---
REFERENCES
---
Royal Albert Hall will turn 150 years in 2021 and we just added The Proms to our young wish list this year after a grand tour of the Hall… looking forward to IT!