First full day in London after a long flight means it is an Albertopolis day! We remember our way around from a previous Albertopolis walk… sweet memories…
We manage to wake up early in the morning for a grand tour of Royal Albert Hall, yay! The tour is informative, inspiring and entertaining… wish we can make it to a concert or Proms next trip… still on the wish list from the previous Albertopolis visit…
We continue with another dear destination in Albertopolis… the Science Museum… the new Mathematics Gallery was on our wish list since it opened… starting the visit at WonderLab for the playful kids… lots of hands on science… kids in field trips… science demos… Exploratorium style… playful and engaging… the way science education should be… we slowly move on to the second level… Mathematics and Information Age galleries!
The new Mathematics Gallery is one room full of amazing mathematical stories that we are still learning from… there are six zones that we cross fluidly… form and beauty… trade and travel… war and peace… maps and models…life and death… money and economics… traveling in time and geographically while discovering math… or should I spell maths… from the real world…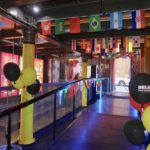 This kind of math can make you skip lunch… whizzing through Who Am I for lunch at Le Pain Quotidien on Exhibition Road… back to the Science Museum where we split into the younger playful team at Wonderlab bis and the Information Age team… until they shooed us out… right on time for a late afternoon choux… in Hyde Park… before switching to Covent Garden for dinner… who would have guessed that we would have a meteoric encounter with The Doctor and find Belgo full with people cheering for Belgium… all in all a most scientifically delightful day!

---
Prince Albert's cultural vision and the history of South Kensington: What is Albertopolis?
---
Science Museum – Learn
LEARNING RESOURCES
FlowingData" Nightingale rose graph | Representing Data.pdf
MONIAC
Historical perspectives – The Moniac A Hydromechanical Analog Computer of the 1950s
Not Your Father's Analog Computer
Phillips' Economic "MONIAC Hydraulic Computer"
The computer model that once explained the British economy
---