LGW: 15min customs line, not too bad
Oyster cards: update and reload
Gatwick Express: short & sweet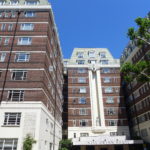 Walk to Nell Gwynn House: 20 min, nice & sunny
We are back to our favorite Chelsea place and we have our room ready, at 8th floor, in the back of the building! Next step is…

… check the nearby Marlborough School!
Our kids noticed the kids going to this school on every stay in London except for the last time when the school was closed for renovation… to our delight it reopened and looks impressive with different levels of inside-outside mingling! Now that I'm writing down these memories and looking up the school I see it won a RIBA award!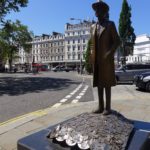 Back to our musical theme, we rediscovered Béla Bartók in South Kensington… not the blue plaque though… one more reason for a next visit to London… a Blue Plaque citinerary…
Next South Kensington tradition is KC Crêpes… yum!


Serpentining through Hyde Park for a splash of greenery… art… architecture… from Serpentine Gallery… to the Sunken Garden… Japan House.. closing a long loop in Chelsea's Partridges and Pret a Manger… off goes the jetlag!

---

LONDON'S BLUE PLAQUES
DISCOVER THE STORIES BEHIND THE PLAQUES
The English Heritage Guide to London's Blue Plaques : The Lives and Homes of London's Most Interesting Inhabitants
Serpentine Pavilion 2018 designed by Frida Escobedo




---
Christo and Jeanne-Claude: Barrels and The Mastaba 1958–2018


Christo's latest installation: 'The London Mastaba'
Christo's Latest Work Weighs 650 Tons. And It Floats.
The London Mastaba is made up of 7,506 barrels, painted in hues of red, blue, and mauve. "I chose these colours with the landscape, the vegetation, the foliage of the trees, with the rainy days and sunny days in London in mind," Christo tells Evening Standard
Christo and Jeanne-Claude's 'The London Mastaba' Virtual Reality Experience
---
Serpentine Galley Mobile Tours
---
Kensington Palace, Kensington Gardens
Garden History Tours | The Palace Gardens
---
First look inside Japan House, a new cultural centre in Kensington
JAPAN HOUSE: London
---
The Roof Gardens has now closed 🙁
---
Pret A Manger sold for $2 billion to Germany's deal-hungry Reimann family