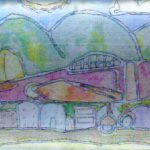 Uber to SJC… Delta to LAS… bumpy landing in LAS…


VA to LGW… VERA movie time…
Let the musical trip commence!
My Generation (2017)


BFI Player
Presented and narrated by Michael Caine, My Generation playfully explores the impact of Britain's working class cultural revolution in the 1960s, as attitudes were changing and everything seemed possible. A wealth of archive film (sourced from over 1,600 hours of footage), contributors including Marianne Faithfull, Paul McCartney, Twiggy, David Bailey and Mary Quant, and a spot-on soundtrack from The Beatles, The Rolling Stones, The Kinks and The Who make for an exhilarating journey back in time.

Caine is a delightful host and raconteur, sharing priceless anecdotes from the beginning of his career. And throughout this film, which was written by British TV legends Dick Clement and Ian La Frenais (The Likely Lads, Porridge), there are wonderful moments that capture the energy, style, fashion and sheer exuberance of that momentous era.