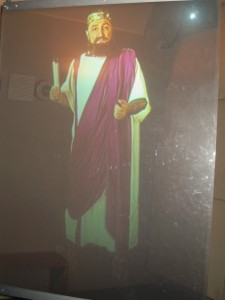 Three years ago, one kid only, I was wondering if an archaeological place is a good destination for kids. It was a blast, the most interesting and imaginative playground, where ruins turn into real palaces again!
This time in Israel, we decided to go back in time to Caesarea. We used to live in Israel many years ago and we've followed the restoration work at Caesarea National Park, so we knew what a wonderful place it is.
But I didn't know what a perfect family destination it became! You can now travel through time in three new exhibits impressive for kids and adults alike:
Here are a few pics from the studio that developed the animation.
After we've seen Caesarea's history on screen, we went on to explore the real thing, and what a beautiful walk that was!
We did a mix of trails on the spur of the moment, from the port, through the walls, to the hippodrome, admiring Herod's Palace and choosing a seat at the roman amphitheater for the Jazz Festival, saddened that we've missed it this year and planning our next itinerary.
Another nice thing is that although the park closes at 18 (the exhibits at 17, check hours here), this only means we can, of course, enter the National Park for free, after these hours (other than the theater, which is closed at these hours)
Restaurants are open late too, after the park closes, so we had a delicious dinner at Aresto. Yummy salads, calzone made in the outdoor oven, pasta for kids…
After that we went to the beach, a small beach, but well maintained. Well, there is an entrance fee during the day. The beach bar had nice Israeli music, kids found friends to dance with, we've enjoyed the sunset there, and that concludes a wonderful family day in Caesarea. Always happy to come back!