Next day's destination was Mies van der Rohe Pavilion in Montjuïc. But we found a very convoluted itinerary to reach it. The Pavilion is right near the Magic Fountain, so we started with the end: the night light show.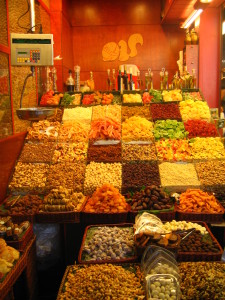 Here we have an itinerary ending at Font Magic, with La Boqueria appetit, Las Ramblas entertainment, and a delicious inspiration, a castle playground too:
We started our morning walk on Las Ramblas, with a delicious breakfast at La Montserratina Patisseria. The street shows always add color to an itinerary!
A refreshing stop and more color in La Boqueria, yum ananas-pitahaya juice!

Adventure trip to Castell: we took a bus to Paral·lel metro station, the funicular after that, and we topped it with a telefèric ride for the best views.

Montjuïc trek to Fundació Joan Miró: kids are tired, museum crowded, we are all hungry, so we continue to the magic fountains looking for a place to eat too.
We enter The Gardens of the Font del Gat, an invigorating surprise! We even find a cats restaurant, but it's closed for a private party, arrrgh!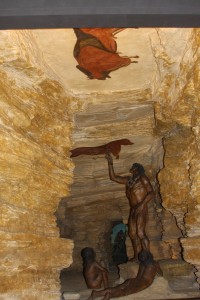 A somewhat unplanned stop at the Archaeological Museum, but this is such a lovely and kid-friendly museum that we cannot resist! It has a wealth of books for kids that I'm trying to find now in English.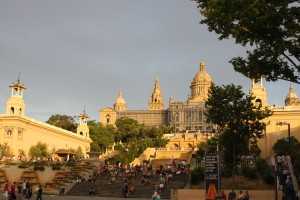 We finally find a cafe between MNAC and Font Magic, yum! And a missed spot, Caixa Forum / Casa Ramona by Josep Puig i Cadafalch, adding it to the wish list for the next trip. Last in this itinerary, nevertheless the highlight of the day, we reach our destination, the Mies van der Rohe Pavilion and Font Magic, lights!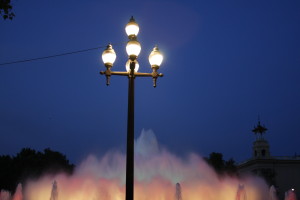 Montjuïc is definitely a huge park, a green city inside a city, and our itinerary can be easily split in several days. I definitely want to go back for Poble Espanol, we visited it in our previous trip and my memories make it a nice destination for kids. More beautiful Montjuïc itineraries, to be checked the next trip!

C I T I N E R A R I E S | Barcelona