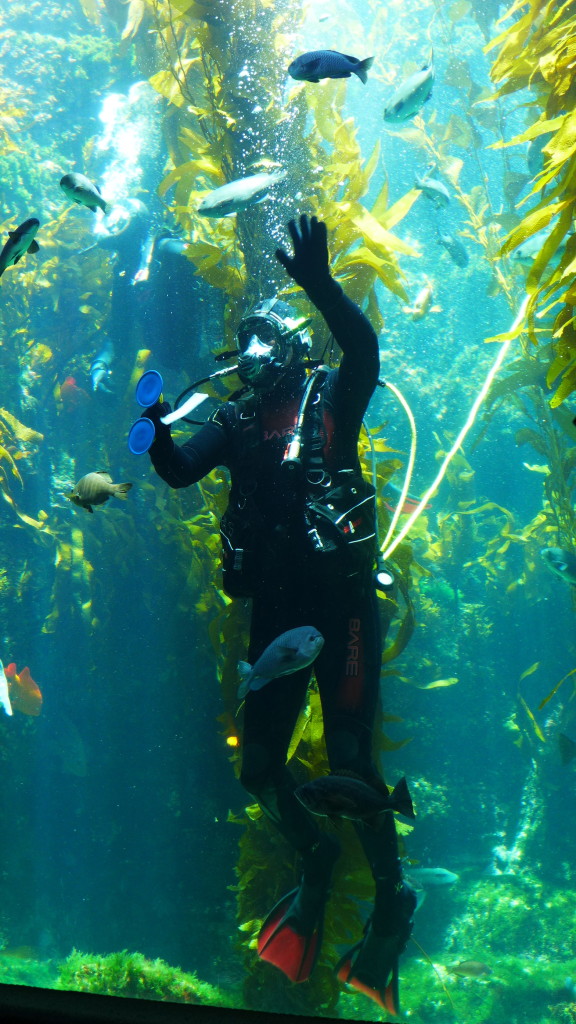 We finally "settled down" in La Jolla for the last two days of our San Diego trip. Our kids first choice was Birch Aquarium at Scripps, and that was a wonderful place indeed!
Not only we saw amazing exhibits, even a seahorse nursery, learned about pioneering research at the Scripps Institution of Oceanography, but the kids had a chance to harness their boundless energy in creative and playful ways, all while immersed in a breathless vantage location above La Jolla.
Our next destination was La Jolla Cove. We fell in love with the beaches of La Jolla last trip, and that was part of the reason we're back. We were lucky enough to find parking by the Scripps Park, and a nice Thai restaurant nearby that made everybody happy to go explore the beach and coves…
The rest of the day we've enjoyed La Jolla Cove, but not before discovering the Sunny Jim Cave and Coastal Walk Trail, the latter a really nice and secluded find in an otherwise touristy spot.
Another nice spot nearby is the Museum of Contemporary Art, conveniently open late on the third Thursday of the month, and free too. We took advantage of the schedule and enjoyed their wonderful outdoor sculpture garden.

We retreated from the hustle & bustle of La Jolla Village late afternoon on a modern tour of a few remaining case study houses, a beautiful sight of modern and timeless La Jolla…


View SAN DIEGO: La Jolla Itinerary in a larger map
2013-2014 La Jolla Visitor Guide

Birch Aquarium at Scripps: SEA Days | Summer Learning Adventure Camps
La Jolla Historical Landmarks | Walking Tour – map
MODERN SAN DIEGO | San Diego: Mid Century Modern
Getty Digital Collection: Case Study House No. 23 (San Diego, Calif.), 1961