Early morning in Le Marais… earlier than most shops opening time… nice stroll nevertheless… on Rue des Archives… to Rue de Bretagne… past the awakening Marché des Enfants Rouges… Ladurée and Poilâne… to a green, lush corner… the Square du Temple – Elie Wiesel with its dark history… continuing past le Musée des arts et métiers where we want to come back later in the afternoon… to Les Halles for an Orange card… with no luck.


Continuing to the sweet spot of the day… Patisserie Stohrer with its legendary creation… the Rum baba turns out too rummy for our taste… but Rue Montorgueil surprises us with everything we need for a yummy lunch… La Fermette fromagerie… Eric Kayser boulangerie… local flavors and atmosphere… a delight!


On our way to the amazing flat in Marais… another green and serene surprise… the beautiful Jardin Anne Frank… can't believe is just a stone's throw away from the hustle and bustle around Rue Beaubourg and Centre Pompidou… a quiet piece of greenery in the city… the peaceful power of a park!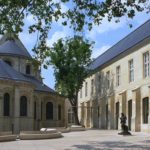 In the afternoon we've decided to explore the old Musée des Arts et Métiers… hoping to follow in the footsteps of inventors and pioneers of progress and explore a one-of-a-kind repository of scientific and technical knowledge… over 2,400 inventions split into seven collections Scientific instruments, Materials, Energy, Mechanics, Construction, Communication and Transport.

An evening walk past the ailing Notre Dame… famous ice-cream at Berthillon… Shapes in Silence at Galerie Dutko… on the elegant Île Saint-Louis… making our way back home past the lovely Jardin de l'Hotel de Sens… not knowing that we'll discover another side of the l'Hotel de Sens by chance… on our last day in Paris… for now we retreat our steps on Rue des Rosiers… for a typical Marais dinner… Bon Appétit… or should I say בתאבון!


The master plan included an evening visit to Centre Pompidou… but Le Grand Assistant can only stretch that much… who knew we will meet again in Amboise… by chance again… one missed place… one new chance for another surprise… the time has come for a good night… and a new CITINERARY!

---
LE QUARTIER DU TEMPLE : PAR ICI, LA VISITE !
L'histoire du quartier du Temple en 3 lieux emblématiques
Plan de l'ancien quartier du Temple
Quartier du Temple – Historic Marais – Paris
The Temple Story – Parismarais.com
Visite guidée: MARAIS DES TEMPLIERS
Honoring Victims of War at Paris's Anne Frank Garden
JARDIN ANNE FRANK – 30 JOURS A PARIS
Jardin Anne Frank Garden in Paris
X: The Chestnut Tree in a Garden?
Musée des Arts et Métiers @ ALTA PLANA
---
Thu, 06/13, Paris: Marais…